Jeff Masterson's Ectomorph Transformation
Jeff Masterson used to be some really skinny dude:
The sad part was that he was tall, so his skinniness made him look elongated and stick out like a sore thumb.
He got tired of it and decided to hit the gym.
He went to the gym 6 times a week and spent hundreds on supplements, and needless to say, he didn't achieve any significant results – he gained 9 pounds in that whole year.
As he began to research more, the pieces of the puzzle started fitting together. He saw the light and things kicked off from there as he began to design a weight gain program.
As a result, he managed to put on a whopping 63 pounds from 142 lbs to 205 lbs!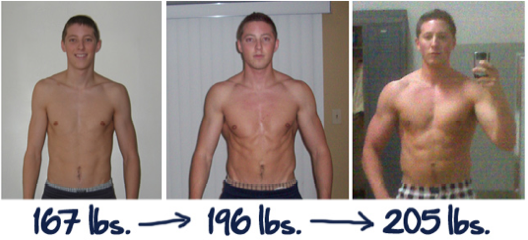 His story sounds pretty similar to mine, just that I wasted more time than him following misleading advice found over the net or advice that just weren't suited to the average ectomorph like me.
He's now a muscle building coach and you can find out more about him here:
His main site
His Youtube channel (51k subscribers)
Facebook (21.8k fans)
Twitter
EzineArticles author
For a review of his weight gain program, click here.